"La Fonte Nuova" is in Casacalenda, in the province of Campobasso, an ancient village in Molise in the Cigno Valley, in a picturesque setting where hills, fresh air, unspoilt fields and plants continue to offer the possibility to reap the fruits of the land and, using them well, produce excellent cheese with raw milk.
An indefatigable passion for agro-pastoral tradition, love for the land, together with a desire to put to use substantial experience, spurred the owners, Giovanni and Tina, on to found the cheese workshop in 2000.
Today the business can be proud of its respected, very high qualitative standards, its constant and integrated innovations in technology, its unique artisan expertise, and its careful search for and selection of the main ingredient "Milk", collected by local families who are respected and acknowledged for their hard work.
Over the course of time, the "La Fonte Nuova" label has established itself and earned the favour of consumers who are mindful of the benefits of a healthy and balanced diet, of respect for the environment and of the best workers' conditions.
"By eating with care we have the advantage of being able to obtain lots of information and lots of pleasure from our food. And above all, we acquire a good capacity to defend ourselves against ingredients that are toxic, synthetic or just bland."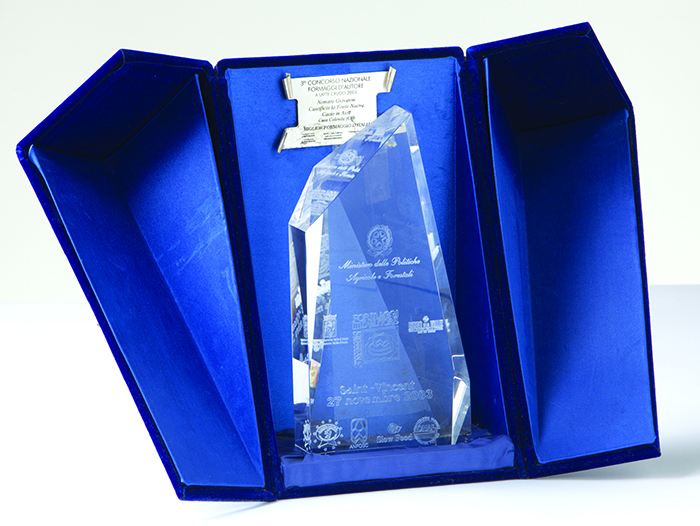 Awards
2003 Best Italian Cheese – Saint-Vincent Valle d'Aosta
2004 Gold medal for best Caciocavallo – Frosolone Molise
2005 Silver medal at International competition for best cheeses from the mountains – Verona
2006 3° Nomination Caciocavallo Silano Dop – Best Italian Cheese – Saint Vincent Valle d'Aosta
2006 Grolla d'Oro Best Italian Cheese Saint-Vincent Valle d'Aosta
2007 Gold medal at International competition for best cheeses from the mountains – Oberstdorf (Germania)
2009 Grolla d'Oro Best Italian Cheese Saint-Vincent Valle d'Aosta
2009 Silver medal Olimpiadi dei Formaggi di Montagna
2009 Saignelégier, Bellelay & Tramelan – Swisseland
2017 Nomination Italian Cheese Awards 2017 Bergamo Alta